10 Days / 10 Nights Total Checkup SPA Package
We know that it has not been easy, that you require a break, that's why we have created a special promotion for you.
10 Days/10 Nights Total Checkup package
Objective: Carry out diagnosis and comprehensive treatment of body, mind and emotions.
Aimed at people who lack an accurate diagnosis, and therefore suffer from chronic or acute conditions without finding the way of treatment and recovery of their health.
Includes:
10 days / 10 nights accommodation.
Vegetarian Food.
Routine of the naturopathic regimen with hydrotherapy, geotherapy, heliotherapy, herbalism.
1 Bioenergetic diagnosis of Scio at a distance.
1 Medical consultation with iris diagnosis.
1 kit of implements.
Laboratory analysis kit (hematic biometry, 4-element blood chemistry, fasting glucose, general urine, 3-sample serial co-parasite).
1 Scio bioenergetic therapy face to face.
1 Biomagnetic couple therapy.
1 Reiki Therapy.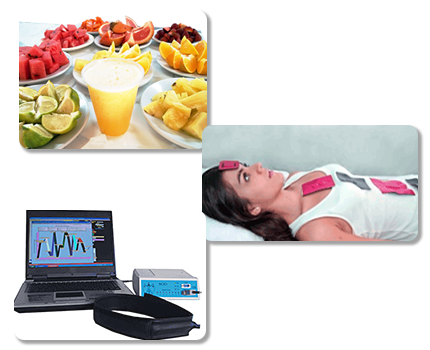 Prices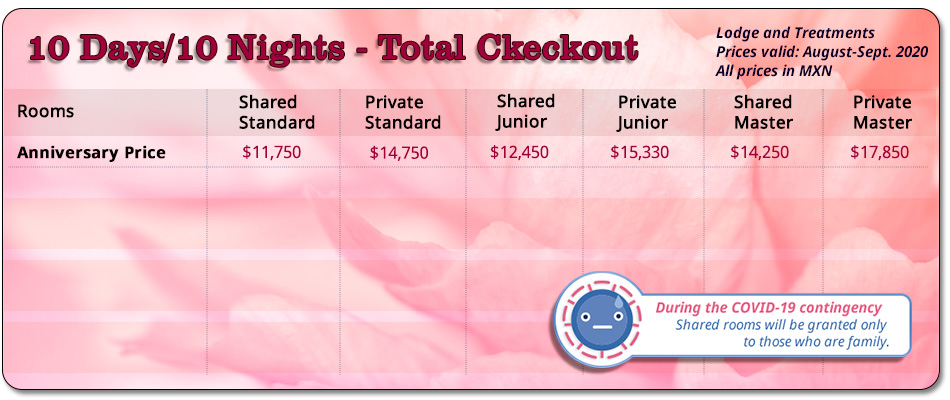 Note: Special price for 2 people granted only to family members who are in good respiratory and temperature health; who will share the same room. People who come alone must pay a private room price, in compliance with the contingency measures by COVID-19.
Description:
Advance reservation is required (at least 5 days before arrival).
Deposit of 50% of the cost of your package.
We will start with the remote Bioenergetic Scio diagnosis (before your arrival), for which it is important to provide us: first name (s) first name (s) (not marriage); date of birth; birth hour; city, state and country of birth; current address where it resides.
Validity of the promotion: from August 01 to September 30, 2020.
Total Checkup Services Program
Day 1
Upon arrival (Monday to Saturday morning), you will receive your medical consultation with a diagnosis of the iris. The doctor will already have printed his Diagnosis Scio, to integrate with the diagnosis of the iris, and grant a more complete treatment.
You will receive your Kit of personal implements to carry out your treatment: 1 natural bristle brush, 3 pullman towels for hydrotherapy, 3 probes for enema, 1 bucket for steam bath, 1 tub for sitz bath, 4 plastic bottles: 1 for urine sample and 3 for excrement sample, schedule guide for naturopathic therapies, etc.).
Important: it is highly recommended to attend the Tour of the facilities, to learn about the full range of complementary therapies that are offered and to clarify doubts about the routine of the naturist regime.
Day 2
Laboratory tests will be performed, so it is important that you remain in total fasting, until the chemistry goes to your room (between 8 and 9 am) to take the blood.
You should store the first morning urine in one jar, and a small sample of stool in another jar; then another 2 samples at different times or until the next day.
You can receive your morning rub, walk on the grass, steam bath (but not take fasting tea, or flaxseed; if not until after the blood sample is taken).
Days 3 and 4
Every day in the morning the doctors will visit a doctor between 8 and 9 am, so it is important to inform them of any discomfort that they have had to report in the medical consultation.
Between the third and fourth day, your lab results will be ready. A copy will be added to your medical record and the original results will be delivered to you. It is important that you request advice from the consultation control department with the doctor who received you upon arrival to determine your diagnosis and follow up on the most suitable therapies for you or even a prescription for allopathic treatment if required.
Day 7
Biomagnetic pair therapy (magnetotherapy) will be granted for the revitalization of organs, glands, elimination of reservoirs (pathogens), detection and elimination of trapped disharmonic emotions.
Day 8
Reiki therapy for emotional and energetic harmonization will be granted. Ideal for states of depression, grief, anger, insomnia, anxiety, mental or emotional confusion.
A printed report of your Scio therapy will be delivered, with advice and positive affirmations for the balance of your health.
Days 9 and 10
Last two days, so you can enjoy the daily treatment routine and choose an additional service or therapy.
Contraindications
People with pacemakers, or who have received electroshock therapies (they are not candidates for this package) should opt for the basic stay of 7 days and consult with the doctor which therapies are beneficial for their state. In the case of pregnant women, it can be granted (after the first 4 months of pregnancy).
Stay Policies
There will be no change in the therapies that make up the package (if you choose not to receive a therapy or service, it is your personal decision) for which there is no refund. You must pay the cost of the package in full, the first day you enter.
In case of inability to fend for yourself (older adults, degenerative or chronic disease) and you are unable to walk, attend therapy, dining, etc. You must bring a family member to support and accompany you to carry out your therapies, for which you will have a rate as a companion with food and lodging.
In case of voluntary withdrawal (before concluding your stay and package) there will be no refund, a voucher will be given for the stay of the remaining days and the therapies not taken, which may be valid by a relative or acquaintance (previously endorsed by you) and must Present the voucher in physical form to make it effective, in case of loss or loss of the voucher (there will be no refund).