2 Days / 2 Nights Osteo-muscular
Designed especially for men and women who handle high levels of stress and work, and suffer severe back pain or muscle spasms.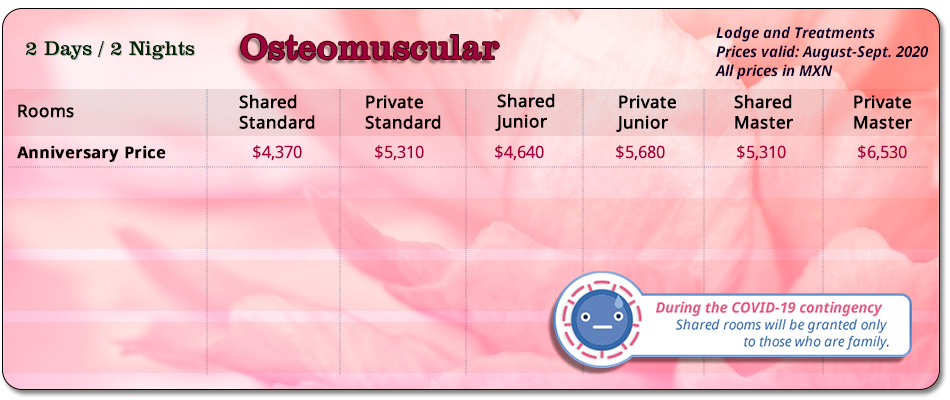 TERMS AND CONDITIONS:
All prices listed in Mexican Pesos.
Prices valid for August and September 2020.
In order to apply the 7 Days / 7 Nights package promotion, both family members must stay in the same shared room, as well as start their treatments the same day.
Promotion subject to room availability due to the reduction in capacity derived from the contingency of COVID-19.
During the COVID-19 contingency period, a shared room is only granted to those who are family.
If only one person comes, a Private Room rate will apply.
All rooms have a full bathroom and telephone for internal communication.
These prices DO NOT include medications or dietary supplements that the Doctor may prescribe.
You must deposit at least 50% of the cost to secure your reservation.
Mandatory to respect the rules of the Ministry of Health, such as the use of face masks, keeping a healthy distance, etc.
Prices for companion per night:
| | | | | | | |
| --- | --- | --- | --- | --- | --- | --- |
| Fares per companion in the same room | Shared Standard | Private Standard | Shared Junior | Private Junior | Shared Master | Private Master |
| Without meals | $490 | Not Available | $690 | Not Available | $810 | Not Available |
All prices are per day in mexican pesos.
Prices per companion per night, according to the package you've hired.
Companion without meals: Use of the facilities and sharing the room with your companion. The cost of food for the companions is based on the price list of our food menu.
We don't have a personal nurse or therapist for each client.
Includes
2 days/ 2 nights lodging
6 meals
2 medic visits
1 medical consultation
1 implements kit
1 relaxing massage
1 Osteo-muscular massage
1 electro-magnetic podal therapy (20 min)
1 column thermal therapy (30 min)
Daily routine treatments
We recommend to make the reservation with 8 or 15 days before arrive and sent a 50% deposit of the cost to guarantee your room. 
Important:
Check in is monday-saturday at 12:00 PM (UTC -6:00). If you arrive after 12:00 PM you must pay the whole day. Room is due at 10:00 AM next day. We don't have consultation service on sundays. Also, please check our regulations.