7 Days / 7 Nights Stay
Designed for who want to choose optional services.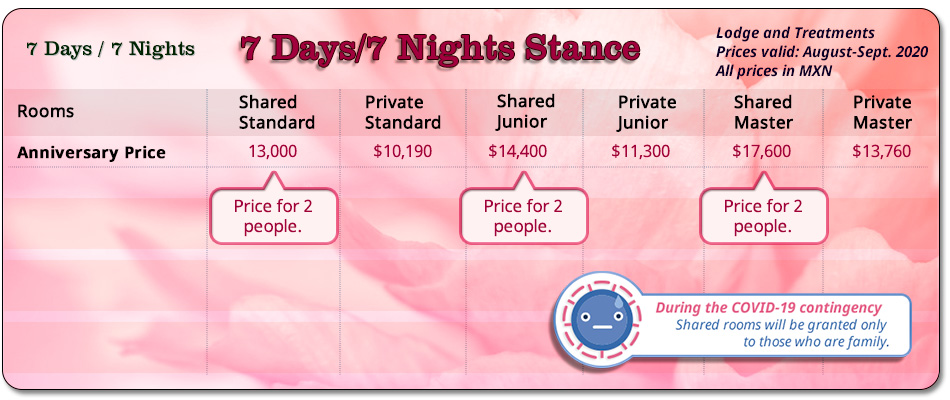 TERMS AND CONDITIONS:
Promotional prices valid from April 1 to May 31, 2020.
All prices listed in Mexican Pesos.
During the COVID-19 contingency period, a shared room is granted only to those who are family.
Prices apply for reservations of two family members, who enter the same shared room and start the treatment the same day.
To ensure your reservation, you must cover the total amount of the cost and send the receipt with the provided reservation number.
The promotion is subject to availability of spaces due to the reduction in capacity due to the contingency of COVID-19.
Reservations must be paid in full and on time. As received, will they'll be honored.
In case of cancellation, there will be no refund, so another family member or friend that the patient designates in writing may make it valid, and it must be taken in the period of the promotion or low season.
All rooms have a full bathroom and telephone for internal communication.
These prices DO NOT include medications or dietary supplements that the Doctor may prescribe.
Prices for companion per night:
| | | | | | | |
| --- | --- | --- | --- | --- | --- | --- |
| Fares per companion in the same room | Shared Standard | Private Standard | Shared Junior | Private Junior | Shared Master | Private Master |
| Without meals | $490 | Not Available | $690 | Not Available | $810 | Not Available |
All prices are per day in mexican pesos.
Prices per companion per night, according to the package you've hired.
Companion without meals: Use of the facilities and sharing the room with your companion. The cost of food for the companions is based on the price list of our food menu.
We don't have a personal nurse or therapist for each client.